A hernia is a protrusion of an internal organ or tissue through an abnormal or normal opening in the body wall. The most common types of hernias are incisional (resulting from an incision), umbilical (belly button), inguinal (inner groin), hiatal (upper stomach) and femoral (outer groin). Today's hernia repair options include new materials and techniques that can make recurrence less likely, recovery faster, and surgery less invasive.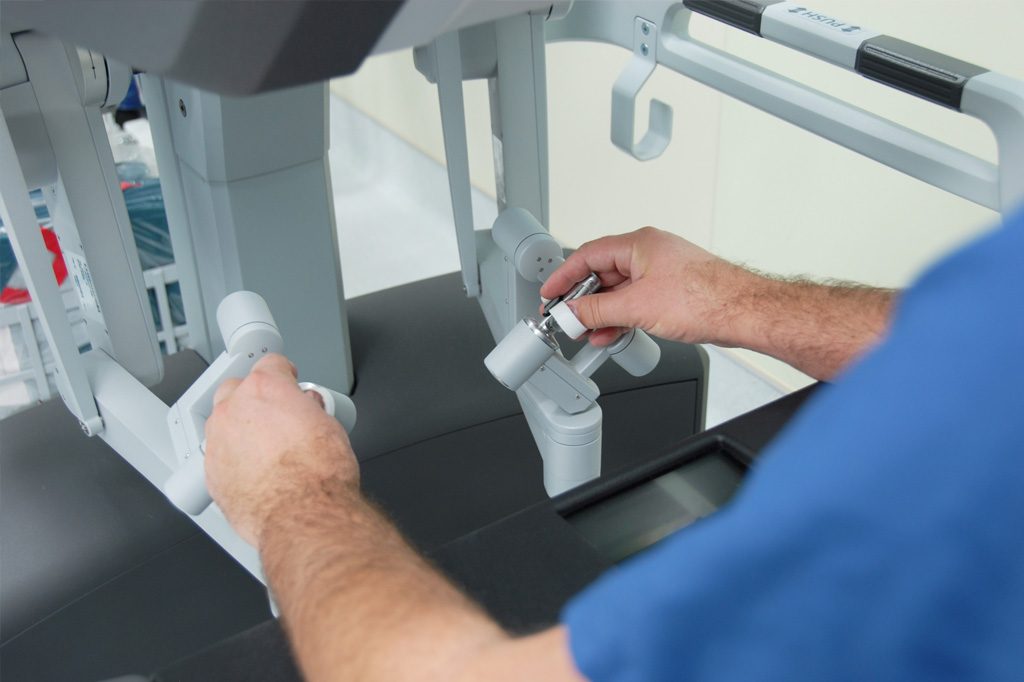 Robotic
Robotic hernia repair involves using a robotic arm, controlled by a surgeon, to repair the hernia through several small, 1-2 cm incisions. Like laparoscopic procedures, robotic procedures are minimally invasive and carry many of the same benefits – quick recovery, less post-operation pain, and shorter hospital stays.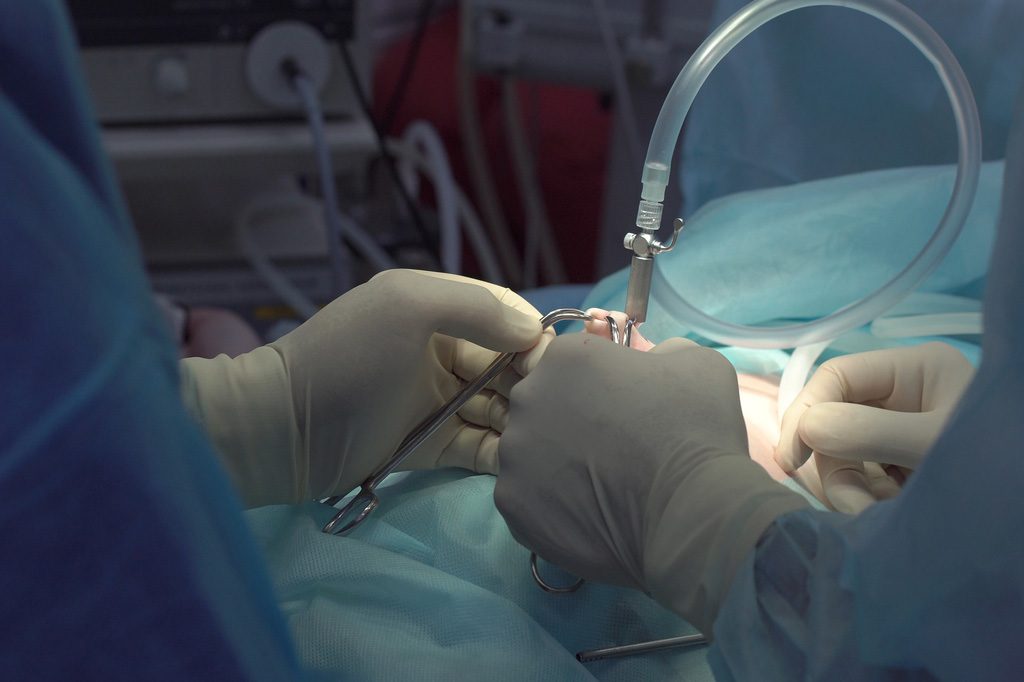 Laparoscopic
Laparoscopic procedures, also known as "minimally invasive" procedures, use several small incisions to access the hernia.  After the incisions are made, a device called a laparoscope is used to repair the hernia.  In contrast to open procedures, laparoscopic procedures produce less scarring, produce less post-operative pain, and allow the patient to return to normal activities faster.  Laparoscopic hernia repair is typically done on a out-patient basis.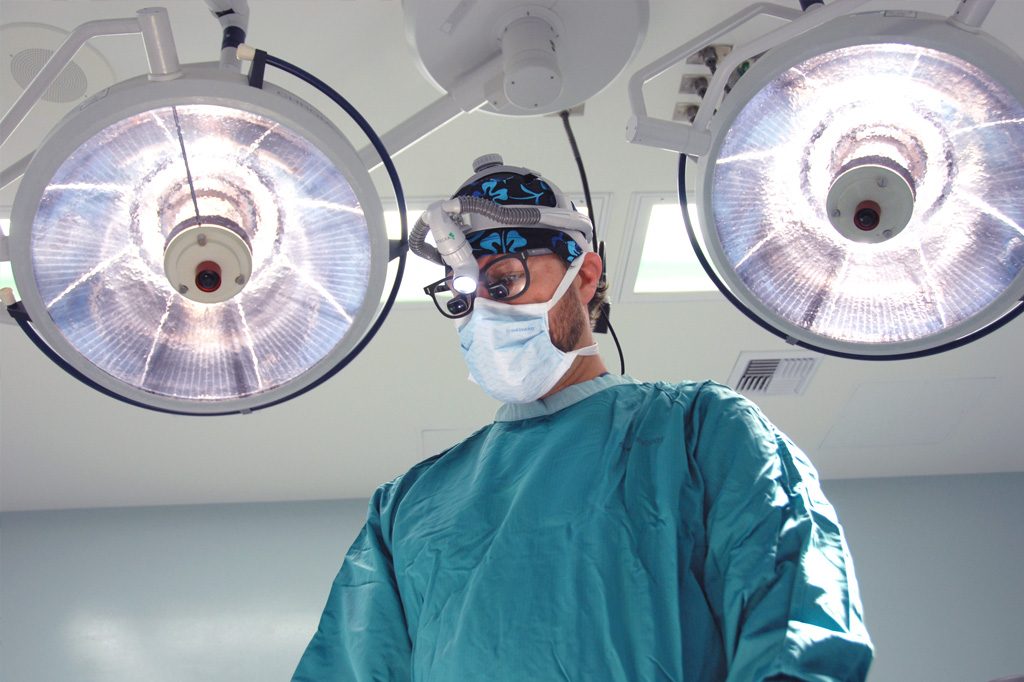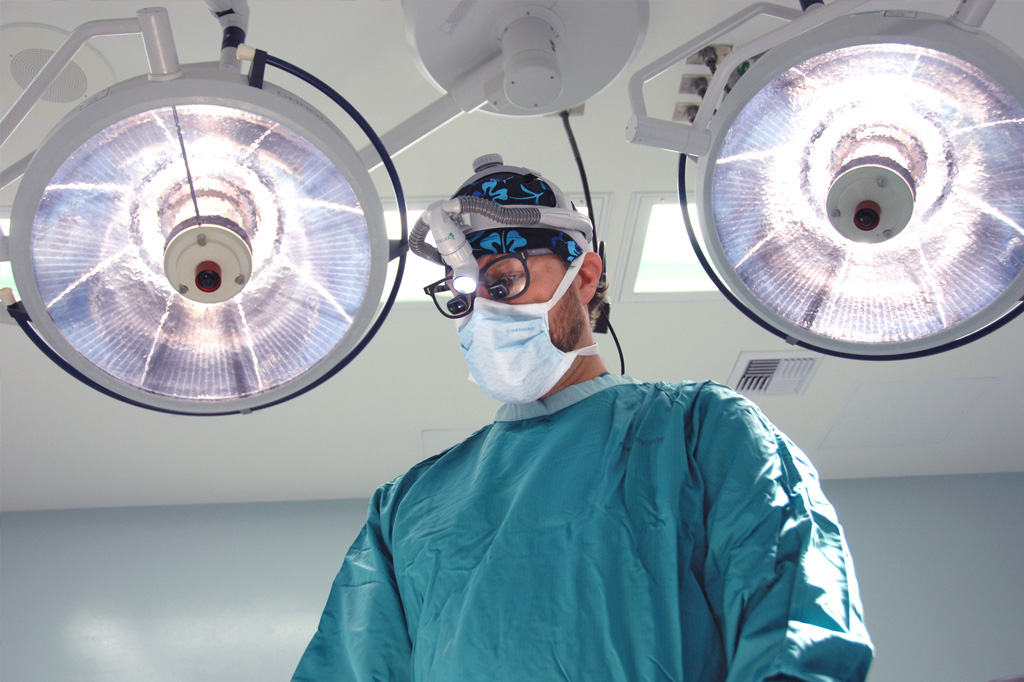 Open
Ideally suited for patients with large hernias, open procedures use a single incision along the abdomen to access the hernia.  A patient that has had previous abdominal surgery can also be a good candidate for open procedures, as scar tissue in the abdomen can make minimally invasive operations difficult and, in some cases, dangerous.
Incisional Hernia
An Incisional hernia occurs in the abdomen area resulting from weakening tissue where a previous surgical incision has been performed. The hernia will appear as a bulge under the skin and will be tender or painful to touch.
This kind of hernia can occur months after an operation or immediately following a surgical procedure.   Incisional hernias do not heal on their own and require surgical treatment. Most incisional hernias are diagnosed with a clinical exam.
Symptoms
The symptoms of an Incisional Hernia include pain, swelling, and aching at the incision site.  You may also experience fever and bulging on the surgical scar.  Bowel obstruction can also occur.
Robotic
Laparoscopic
Open
Umbilical Hernia
An Umbilical Hernia occurs when part of the intestine, or fat bulges through a weak spot in the abdomen near the belly button (naval). Umbilical Hernias generally occur in infants but can also occur in adults.
There are several reasons why an adult may develop an Umbilical Hernia. The most common include being overweight, being pregnant, chronic cough, chronic constipation, and an oversized prostate gland. Generally, Umbilical Hernias need to be surgically repaired as soon as they enlarge or become painful.
Symptoms
Umbilical Hernias are generally painless. The most common symptom is swelling or a bulge near the belly button.
Robotic
Laparoscopic
Open
Inguinal Hernias
Inguinal Hernias occur when tissue, generally the small intestine, protrude through a weak spot in the abdominal muscles. The bulge created can be painful, especially during coughing, bending over, or lifting a heavy item. Inguinal Hernias don't improve on their own and require surgery.
Unlike other hernias, Inguinal Hernias don't have a single cause and can be formed from a multitude of reasons, such as: heredity, being male, premature birth, obesity, pregnancy, chronic cough, and chronic constipation.
Symptoms
Inguinal Hernias are most noticeable by appearance – a bulge along the groin that increases in size when standing or coughing. This bulge can be painful and / or sensitive to the touch.
Robotic
Laparoscopic
Open
Hiatal Hernias
When the upper part of the stomach bulges though the abdomen and chest a Hiatal Hernia occurs. Small Hiatal Hernias generally don't cause problems – a patient may not be aware they have one. However, a large Hiatal Hernia may cause acid to back up into the esophagus, causing heartburn. Lifestyle changes and medication may help relieve symptoms. However, a very large Hiatal Hernia may require surgery to repair.
There are multiple reasons why Hiatal Hernias form. Common reasons include: age-related diaphragm changes, injury to the area, and persistent pressure on the surrounding muscles.
Symptoms
Larger Hiatal Hernias may exhibit the following symptoms: heartburn, regurgitation of food, acid reflux, difficulty swallowing, abdominal pain, and shortness of breath.